A few days ago the New York Times published the latest news about Apple: the Cupertino's company has enlisted Hollywood directors like Jon Favreau to help its effort to create products that blend the physical and virtual worlds.
Behine the scenes there will be no more just cameras, lights and tripods. The future of cinema is already here and it made of virtual avatars using new tools in order to improve the relationship between reality and metaverse. To be an actor we can guess, in the future, you will have to study in the metaverse?
The "next big thing"
Apple's augmented and virtual reality headset will have some content created by Hollywood directors. The first could be Jon Favreau who among other things directed Iron Man with Robert Downey Jr. To report the indiscretion the New York Times, which ensures that the device will be launched next year almost 15 years after the iPhone revolution. The Cupertino-based company would therefore be recruiting directors of the caliber to develop video content for a viewer that should lead Apple into the mixed reality sector that Microsoft, Google and the parent company of Facebook, Meta are already betting on.
Apple's development of virtual reality content and software tools is important to create experiences that give its headset purpose. To make it useful, analysts explain, it will have to have content that transcends the niche world of video games. Apple started this journey a few years ago: in 2017 it launched ARKit, which allows developers to use the iPhone's camera and motion sensors to position digital objects in the real world and allow people to interact.
PHOTO: JUSTIN LANE | EPA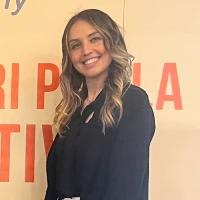 Ilaria Vanni is a TV journalist for italian broadcasting and coordinator of The Meta Economist portal. She has a philosphy degree and she's now studing the economic and technological issues connected to the new frontiers of the metaverse.