CHINA - Digital yuan app adds Mastercard and Visa prepaid top-ups for tourists. The e-CNY app now allows tourists to top up their payment wallet using Mastercard and Visa with the "top up first, use later" option. The app, known as e-CNY, is currently in beta and is available to iPhone users in select regions of China and China-based Google Play Store users. With this new model users would be ble to create personal digital wallets for China's state-backed digital currency. This update aligns with China's efforts to promote the use of e-CNY for payments by international tourists, especially during events like the Asian Games and the Beijing Winter Olympics in 2022.
Currently - Finance Feeds said - the e-CNY is being tested in 23 cities and regions in 15 provinces and provincial-level cities. However, officials say that the main purpose of the pilot program for the time being is to build confidence in the digital yuan's reliability and ease of use.
SOURCE: FINANCE FEEDS
FOLLOW THEMETAECONOMIST ON INSTAGRAM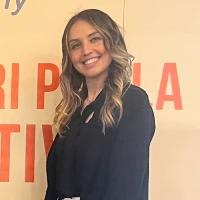 Ilaria Vanni is a TV journalist for italian broadcasting and coordinator of The Meta Economist portal. She has a philosphy degree and she's now studing the economic and technological issues connected to the new frontiers of the metaverse.