ROME - Fiat Metaverse Store, with digital car purchase, becomes real. Is now possible to explore and buy the New 500 La Prima by Bocelli from your smartphone. The technology launched by Fiat is the first of its kind to fuel an end-to-end sales experience in the metaverse, revolutionizing the brand's entire customer experience. In the Metaverse Store there is a real link to the Product Genius of Fiat, a real person who answers any customer question in real time. Visitors and customers will be able to explore and purchase the New 500 La Prima by Bocelli from the comfort of their homes, thanks to a human-assisted, instantaneous, realistic and stress-free process. By the first half of 2023, many oder models will be avaible into the metaverse. Starting from Italy, this revolutionary 'journey' will also be available in other markets.
In the virtual store it is possible to ask questions about electric mobility, the methods of recharging and the contents of the New 500. The customer will be able to closely observe the operation of the Infotainment, the different driving modes or the electric charging of the car or customize the model by choosing its bodywork, colour, interior and any other desired feature, literally seeing the car change in real time.
SOURCE: ANSA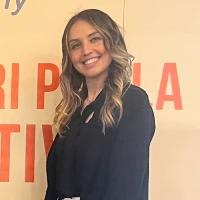 Ilaria Vanni is a TV journalist for italian broadcasting and coordinator of The Meta Economist portal. She has a philosphy degree and she's now studing the economic and technological issues connected to the new frontiers of the metaverse.