LOS ANGELES - At the Meta campus in Menlo Park, Mark Zuckerberg announced all the company's news during the Meta Connect 2023. Meta CEO Mark Zuckerberg updated investors on his plan to build the immersive metaverse in first in-person conference since the start of the pandemic. As we analyze this important event, we believe that those new technologies will come along side with a new economy aim to create a web space to create a new finance model.
Zuckerberg showed his idea to navigate into a mixed reality working with artificial intelligence, augmented and virtual reality technologies. The company, which renamed itself Meta two years ago, unveiled the next version of its virtual reality headset, the Quest 3. It will cost $499 and will be delivered on the market October the 10th.
As AP reported: "Zuckerberg told the audience of developers, employees and journalists that Meta is "focused on building the future of human connection" — and painted a near-future where people interact with hologram versions of their friends or coworkers and with AI bots built to assist them".
Meta's expectations
Talking about expection we can say that Meta keeps on believing that 3D is the future of online approach and web tools. Meta is exeperiencing a corporate transformation that will take years to complete. It wants to evolve from a provider of social platforms to a dominant power in a nascent virtual-reality world called the metaverse — sort of like the internet brought to life, or at least rendered in 3D.
The company's transformation from 2D to 3D has been slower than expected and Meta's main business remains advertising on its social media platforms, Facebook and Instagram. Competition with TikTok remains Meta's biggest challenge, said Insider Intelligence analyst Yoram Wurmser.
After cutting more than 20,000 job last November Meta didn't gave up on the metaverse and mixed reality division. The new investiments announced at Menlo Park tells that Zuckerberg is focusing on more technical hires such as experts in AI toward a long-term vision.
After the realease, last summer, of the next generation of its AI language free for research and commercial use, at Connect CEO unveiled an AI image generator named Emu, which creates images based on prompts from users. Users can download its new AI models directly or through a partnership that makes them available on Microsoft's cloud platform Azure "along with Microsoft's safety and content tools."
Conclusions
Meta Connect 2023 let many discoverd how the web 3 revolution will work. We will have virtual odbjects that will be present in our phisical spaces, as long as we will wear VR/AR devices. So olognrams and virtual screens will appear in a room and fastly metl away whe we will take off VR/AR glasses, or in this case Meta Quest 3. This will change the way we experience the web and also the way it will be useful for our everyday life. From the shopping, to learning, form travel to healthcare. Those tools will help our senses to reach highest performances. This concepts are all in the beginning of Meta Connect introducing speech, where Zuckerberg underlined the company's mission and philosophy: "at Meta we are focusing on building the future of human connections. We build products to help people feel closer. And we do that because we believe that this strenghten relationships." The message Zuckerberg gave was that the phisical world around us is amazing and during the last decades we built digital worlds that together with phisical world create our real world. So the challange of mixed reality would be to unify those two kind of world, creating a new real world.
SOURCE: AP, REUTERS, META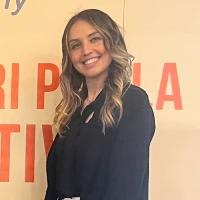 Ilaria Vanni is a TV journalist for italian broadcasting and coordinator of The Meta Economist portal. She has a philosphy degree and she's now studing the economic and technological issues connected to the new frontiers of the metaverse.