META QUEST - On October 11th the Meta Quest Pro, the new headset of the Mark Zuckerberg family, was unveiled. There was no time to digest the news that we were already talking about the possible arrival of another new viewer, the Meta Quest 3. The two should look very similar, but while the Meta Quest 3 is an update of the classic line of Meta, the Pro aims to become indispensable not only for those who navigate the metaverse, but also for those who plan and work there.
Meta Quest Pro and Meta Quest 3 features
Meta Quest Pro features:
stand alone type: thanks to the specific soc made together with Snapdragon (XR2 Plus), it works independently without needing to be connected to another device such as a computer or a smartphone;
less and more efficient heat loss;
12 GB of ram;
256 GB of internal memory;
10 sensors of high sensitivity total between internal and external. The external ones work in color and capture four times the resolution in pixels.
The Meta Quest 3 has not yet been announced, but Bradley Lynch, youtuber and insider, has come into possession of some CAD files and has taken a preliminary analysis.
Type-C connector;
hardware platform based on Snapdragon XR2 Gen 2;
2 GB of RAM and 512 GB of storage.
The cost of Meta Quest Pro and accessories
Mark Zuckerberg has already begun to invest a lot on the project first by buying in 2014 the manufacturer of VR device Oculus for 2 billion dollars. Move that aims to reduce the cost of these devices to make them easier to access. Because the Metaverse is "a vision that encompasses many companies, the whole industry". No one will own it and everyone can be part of it.
The move to buy a company that produces headsets for immersive reality doesn't seem to have had the desired effect yet. Meta Quest Pro. In fact, it costs €1,799.99, a price that is significantly higher than that of viewers of previous generations. Among the accessories, however, you can notice a little 'savings.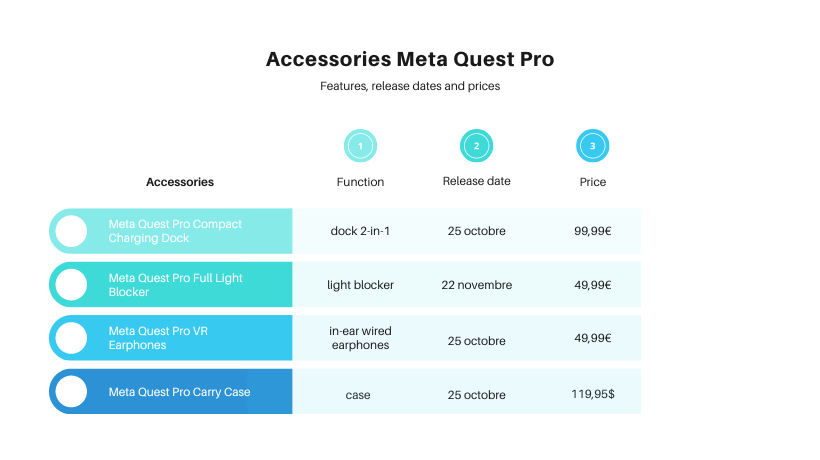 Expert opinion
We asked Giulia, a 3D modeling expert who works every day in the realization of metaverse, what she thinks of the Meta Quest Pro.
"It is definitely a big upgrade compared to the Quest 2 model. Its slimmer, lighter shape defines a more attractive design and hopefully more comfortable than its predecessor. Very interesting is the functionality that detects facial expressions and transmits them to your avatar, this will certainly give more dynamism to interactions with other users of the metaverse.
We are also eager to discover how the passthrough has evolved; the system that allows you to see the surrounding environment "not virtual" in more mixed reality than virtual reality, but especially hand tracking, a system that allows you to use the viewer without the use of controllers.
The only flaw is definitely the price, there is that it is a tool for developers. However it is not really them who live or should live the metaverse, but rather ordinary people who still have so much difficulty approaching this new digital world. Surely the realization of a low-budget or more affordable model could be the answer to the problem".
READ ALSO --> Metaverse: from Oculus to Discord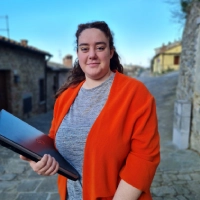 Viola Meacci, student of Biomedical Engineering at the University of Pisa, has always been interested in the world of journalism. In her job, she explored the world of blockchain, cryptocurrencies, NFT and metaverse which she now very is passionate about it .