Metaverse has been always a fashion hub. Since the first big international companies betting on it has been the fashion ones. A new report by McKinsey & Company has suggested that the metaverse's potential economic value could see it generate up to five trillion dollars in impact by 2030.
In this new era of econmical changes, Prada has released its second Timecapsule NFT Collection: a monthly online event where for 24 hours exclusive items are dropped on its website in limited quantities and in selected markets. This was made with a collaboration with artist Cassius Hirst, which was dropped in early June and sold out, according to Prada.
The future of the metaverse
According to the management consulting firm, digital worlds are quickly becoming the biggest new growth opportunity for a number of industries over the next decade, including e-commerce, which it estimated could have a market impact of up to 2.6 trillion dollars by 2030.
As the data say and underlined by Fashion United virtual goods economy was estimated to contribute nearly 75 percent towards global gaming revenues, with about 79 percent of consumers active in the metaverse to have made a purchase, mostly to enhance their online experience.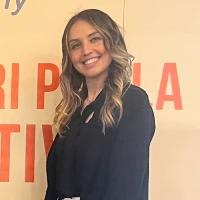 Ilaria Vanni is a TV journalist for italian broadcasting and coordinator of The Meta Economist portal. She has a philosphy degree and she's now studing the economic and technological issues connected to the new frontiers of the metaverse.