On January 18, 2023, the Derby of the Italian Super Cup was staged. Milan and Inter faced off against the nerazzurri to raise the cup to the sky. Simone Inzaghi and his team were able to celebrate the victory thanks to the three goals of Dimarco, Dzeko and Lautaro Martinez. The three scorers, however, unlike the past editions, could not take home the ball they sent to the net. Why? Because the fans can win.
Italian Super Cup, the collaboration between Socios and Lega Serie A
Those who were at the stadium in Riyadh on 18 January or were watching the match from their home couch could see that it was not Inter players who recovered the ball that finished on the net, but it was the referee Maresca who then handed it over to Chiffi. The fourth man then inserted the balls with which Dimarco, Dzeko and Lautaro Martinez scored in a case, with a note showing the minute of the goal and the name of the scorer.
The reason? Those same balls are the subject of a new initiative that has come to life thanks to the synergistic work of Lega Serie A and the fan token platform Socios, which for some years has been working with the world of sport to bring more and more fans and sports clubs.
The token fans of the Italian Super Cup balls
Once the fourth man Chiffi has inserted the ball in the case this was sent to the headquarters in Chiliz, where it will be subjected to verification of authenticity by the team of Gameused.com. Once you make sure everything is done by the book, the Super Cup ball will be implanted with an NFC chip.
At this point, as has already happened with other sports memorabilia managed by Socios.com, the balls will be auctioned and Nerazzurri fans in possession of their team's Fan Tokens can win them, with the guarantee that they are the authentic ones. The three balloons enter the Socios Collectibles, the new hub dedicated to physical collectibles whose authenticity can be verified thanks to an app downloadable on your smartphone.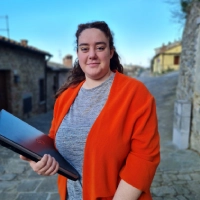 Viola Meacci, student of Biomedical Engineering at the University of Pisa, has always been interested in the world of journalism. In her job, she explored the world of blockchain, cryptocurrencies, NFT and metaverse which she now very is passionate about it .