From the purchase of Oculus VR by facebook which dates back to almost ten years ago to the creation of single meta account (just created) as well as putting oneself at the service and vice versa of all the builders of metaverse, and even more -> the fashion/tendency to create communities.
But, let's start with talking about Discord, the platform where gamers meet since 2015 to become a full-fledged social network with 140 million subscribers; it will also be for this reason that the various metaverses builders have chosen to have a discord community (no one excluded) -> you must have it!
The metaverses must be free places interconnected with each other and different functions and interactivity regulated by an external community - discord communities respond to this need by aggregationing by offering services and before to all -> support!
Customer Service Future seems that: inside the community, people help and bots give answers on basic rules and uses. From others point of view Discord seems be also an "asset platform" seeing that it hosts also NFT communities and it hosts already every DeFi Project all of which have their own servers there...
Facebook, or better "Meta" seems to have no need of Discord, because it is the same platform and social network, but Horizon - the Meta Future, is equally present in Discord or they will be communities that make numbers with the world -> "horizon"??
In any case Discord seems to have a very prosperous future ahead of her - everybody choice Discord also a lot of AI to generate, among the most famous in terms of art: mid journey. It also incredible how being a VoIp service it is expanding to become a communication tool even outside the game world, for example it is very appreciated by students and for music and entertainment.
Creating a Discord community is free (also if for a better "server" you can pay) but requires collaborators and "numbers" to be publicly visible and not only within your own network!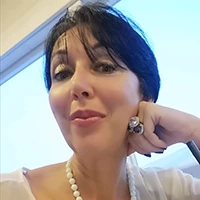 Born in Italy in 1976. Graduated in Political Science, Computer programmer & web 3.0 supporter and user. Real Estate Expert (two professional technical register and two active official roles) - Extrajudical civil mediator.