The car market is influenced by many variables, including demand, supply, technology, regulation and fuel prices. The car market is constantly evolving and new developments such as electric vehicles and shared mobility services are changing the way people buy and use vehicles. Moreover, like many other sectors, it is expanding into the Metaverse.
Differences between the car market in the physical world and that of the Metaverse
The car market in the Metaverso is growing and offers new opportunities for users and companies who want to take advantage of this new virtual world. However, it is still a young and rapidly changing market, so there may be uncertainty about its future opportunities and challenges. At the functional level it is similar to the real one, but with some important differences.
Virtual cars: The cars in the metaverse are digital representations, created and owned by users or companies that offer this type of service. These cars can be purchased, sold and used within the various virtual reality platforms.
Monetization: Virtual cars can be used as a form of monetization, for example for advertising or for participating in virtual races.
Customization: Users can customize their virtual cars with different design and performance options, which can be purchased with virtual or real currency.
Events and competitions: The car market in the metaverse also includes virtual events and competitions, in which car owners can participate and earn prizes or virtual currency.
Some examples of car showrooms in the Metaverse
From 5 to 8 January, as every year since 1967, was held at the Las Vegas Convention Center the Consumer Electronics Show (CES), an exhibition of the most important on the subject of consumer electronics, with a worldwide recognition.
On the occasion of the 2023 edition, numerous technological innovations were presented, including the Fiat Metaverse Store, a virtual marketing initiative of the Italian automaker Fiat in which car models are sold in a virtual environment.
Users can explore, customize and purchase car models in this virtual environment, interacting with them in an immersive way. This virtual store was created to reach a younger and technologically advanced audience, offering a unique and engaging shopping experience. But the main goal is to sell the Fiat 500e in the United States.
Not only Fiat, other car manufacturers are also creating showrooms in the metaverse. Other examples are:
Tesla Motors: Tesla has launched a virtual reality experience that allows users to explore their car models in an immersive environment.
BMW: BMW has created a virtual showroom where users can customize and test their car models in a virtual environment.
Audi: launched a virtual reality experience where users can interact with car models and learn about their features in an immersive way.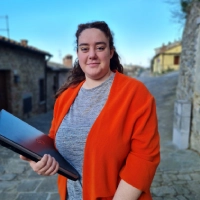 Viola Meacci, student of Biomedical Engineering at the University of Pisa, has always been interested in the world of journalism. In her job, she explored the world of blockchain, cryptocurrencies, NFT and metaverse which she now very is passionate about it .