SAN FRANCISCO - The first developer conference organized by OpenAI was held on November 6. During the convention, entitled OpenAI DevDay, held in San Francisco, two big news were announced for the most famous and talked about Chatbot in the world.
OpenAI introduces GPT-4 Turbo
The less striking news concerns the release of GPT-4 Turbo, a new version of its text generation model with updated data until April 2023. A nice leap forward from the currently available versions that are updated in November 2021.
The turbo version also offers the possibility to process longer texts, for a total of 300 pages and to evolve. The artificial intelligence integrated into ChatGPT will allow the system to process, incoming and outgoing, not only text files, but also audio and video.
GPT, custom version coming soon
The innovations introduced already seem surprising, but what most intrigued the audience at the convention can be read in a post published by OpenAI in its blog.
"GPTs are a new way that allows anyone to create a custom version of ChatGPT that is more useful in everyday life for specific tasks, at work or at home, and share this creation with others".
The GPT, referenced in the post, would be nothing more than chatbots customized that anyone can create, even without requiring any programming skills, to address certain issues or satisfy particular interests. To give life to these GPTs should be enough to make a request to ChatGPT with our needs.
Artificial intelligence will then create the necessary programming code to allow us to fulfill our request.
It will be possible to connect to external systems and services and also, thanks to an online e-commerce made available by OpenAI, you can buy GPTs already made and made by accredited companies.
Making it easy for anyone to create a custom AI chatbot without requiring any programming skills. OpenAI is based on the possibility that people want to create custom chatbots to address certain problems or satisfy particular interests.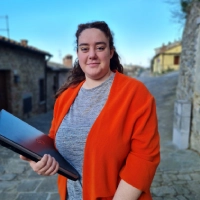 Viola Meacci, student of Biomedical Engineering at the University of Pisa, has always been interested in the world of journalism. In her job, she explored the world of blockchain, cryptocurrencies, NFT and metaverse which she now very is passionate about it .