Since few days, all users can use Duet, Google's artificial intelligence, to create spreadsheets and presentations, but also to obtain a summary of the documents you don't want or time to read.
Montain View's company has in fact just announced the implementation of Duet AI on all its Workspace apps, so it will be available on Gmail, Drive, GDocs and so on. Until recently, over a million people could try out the beta version of this technology, but now that it's out of the testing phase, anyone who pays will be able to benefit from it. Duet AI technology had been announced at the developer conference earlier this year: at the time Google will show how it could be used to transform the structure of a document in GDocs into a presentation, or to create a graph with data from a spreadsheet calculation.
How it works, some examples
A concrete example of what Duet AI can do is Google Meet. During a video call, the tool can take notes and summarize what was covered during the conversation. In case something has escaped your attention, you can also chat with the bot during the call to find out exactly what was said. Integrations with other Workspace applications make it easy to leverage this information, for example by copying summaries into a Docs file. This particular application, however, will not be available initially: Workspace Labs will support AI Notes in the coming months.
Other examples is the possibility of automatically creating a Slides presentation based on your opening notes. This is somewhat familiar territory for those who are already familiar with the artificial intelligence features of the Microsoft 365 suite. However, one specific feature of Google Meet is at least unique: the "join for me" feature allows users not to participate in a conversation and still convey the information to those who participate. Within Google Chat it is possible to have a direct conversation with a generative AI bot. This functionality also integrates seamlessly with other Workspace apps: for example, those who want to summarize a text from Docs or request a data point from Google Sheets can proceed with the request. In addition to AI-specific innovations, there's also a new interface for Google Chat that includes improved search functionality. Support for chat groups of up to 500,000 participants has been introduced.
Duet AI will also enhance Gmail's existing smart reply feature allowing users to draft longer, more personalized email replies with a tap. Additionally, Google said it's working with organizations like Typeface and Jasper to enable marketers to use generative AI to create personalized content in Workspace, along with other partners. Despite Duet AI's ability to dig into corporate files and emails, Google says customers' interactions with Duet AI will stay within their organization and their existing workplace protections will remain intact.
Cyber security for users
However, all this technology is not cheap at all: in fact, Google charges $ 30 per user per month for access, at least for large companies, while the price for small teams has not yet been defined. In any case, it's the same price set by Microsoft for its Copilot, which offers similar AI functions but on Office apps.
he diffusion of generative AI in companies relies heavily on secure data management. Privacy is one of the cornerstones of Google's announcement: the data that organizations enter into Workspace won't go anywhere else and won't be used to train new AI models. End users can try Duet AI with a free trial. Data subjects only need to indicate, in addition to personal data, how many employees the organization in question has and whether it is an existing Workspace customer.
SOURCE: TechCrunch
FOLLOW THEMETAECONOMIST ON INSTAGRAM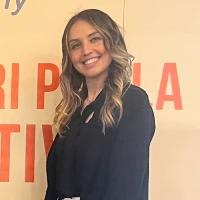 Ilaria Vanni is a TV journalist for italian broadcasting and coordinator of The Meta Economist portal. She has a philosphy degree and she's now studing the economic and technological issues connected to the new frontiers of the metaverse.