FAN TOKEN SPORTS- From business, to sports, to fashion, there are many sectors that are investing in the new technology of blockchain. People invest in all the products that revolve around blockchain, from cryptocurrencies, to NFT to Fan Tokens. They are used to bring young audiences in particular and to create new revenue opportunities. The tech market is in fact one of those that today generates more revenue for those who know how to make good use of it. Sports clubs know this very well, especially the NBA, football, NFL and Formula 1.
What are Fan Token and how they intersect with sport
Fan Tokens are particular cryptocurrencies, which are part of the token utility category. They are issued by sports clubs and allow sports fans access to a range of goods and services that can influence the decisions of the team from which they are distributed. As for the club they represent a kind of "shares" acquired by a fan, but they do not lead to changes in the club and ownership of the club. The purchase of Fan Token does not involve the acquisition of financial shares but only of particular services that can be used by the owner. In this way the teams are not forced to bear the financial costs that the real actions involve.
With Fan Tokens, sports clubs are able to obtain revenues quickly without having to deal with the banking system. In the world of football, for example, the largest European clubs received around EUR 175 million in 2021 alone. But they are not without risk. Being cryptocurrencies, such as "mother coins" do not have a fixed value, but are subject to fluctuations. This entails risks especially for the buying fans, who may find themselves losing everything within a very short time. Losses can last for a long time or for a short time, be highly significant or not. Between December 2020 and January 2021 there has already been such a situation with the token fans of Roma and Juventus who have lost respectively 76.6% and 36.3% of their value.
How You Can Buy Fan Token
With their Fan Tokens fans can choose: which athlete will have to do the live social; which song to put in the warm-up phase or at the interval or after a goal for example; which teams to face in friendly. In addition, through surveys fans can have a voice in the choice of: merchandising; of the bus; on who to line up. It does not end here in fact can also have access to special discounts on tickets and merchandising. Fans can buy Fan Tokens thanks to appropriate cryptocurrencies that are not necessary to own because to make the exchange, between classic currency and tokens, the competent management app does.
Revenue of football teams from Fan Token
For the realization of NFT and Fan Token companies act in two ways, or rely on companies like Sorare or operate alone giving life to their own projects. Clubs can have a mix between the two. Is the case of the Paris Saint Germain that has made $PSG Fan Tokens, the currency created with Socios.com in 2020. $PSG Fan Tokens - with about 60 dollars of maximum listing reached, has set the record for the most expensive fan token.
Interested in these technologies and new sources of revenue are not only the clubs but also the same federations as the Serie A League that created with Crypto.com 7 NFT reporting some important aspects of the 2021 Coppa Italia final. Or the Spanish Football Federation that has put on sale Fan Token for a total of 12.5 million euros, which can be purchased by every single fan for a price of 0.50 cents.
Fan Token, the birth with NBA
Until now we have only brought to light examples from the world of football. In reality the first to kick off the market of Fan Tokens have been the NBA teams by making available to fans videos of the most significant actions. The idea of being able to have as a unique and unrepeatable copy, thanks to the technology of the NFT, a basket of its own myths made the price of these videos splash even at 1800 dollars per piece.
To talk about the success of NFT and Fan Tokens is the same Alexandre Dreyfus, CEO of Chiliz and socios.com, the platforms that manage these technologies.
"In just one day, we announced five partnerships from three different sports across three continents. In the coming years, a generation of passive fans will turn into active fans and this transition will happen through involvement on our platform. The world's largest sports organizations are joining us en masse in the firm belief that Socios.com and the Fan Tokens are here to stay".
Other sports won over by Fan Token
The first to launch Fan Tokens in motorsport were Chillz and Socios.com in collaboration with Nascar's Roush Fenway Racing team. They were then followed by Formula 1 with the Aston Martin and Alfa Romeo teams. F1 teams will earn through percentages received on fan tokens and trading.
The statement of Frederick Vasseur, Alfa Romeo's main team after the agreement:
"The way to engage fans in F1 is evolving and Alfa Romeo Racing ORLEN is at the forefront of this exciting new journey. Launch of fan tokens will provide our fans with a new way to interact with the team, which is a key aspect to bringing our fans together in everything we do within the team". Red Bull, Ferrari, Mclaren and Mercedes also followed the two teams closely. Today even tennis is trying to invest in this world and has already done so at the Davis Cup final.
READ ALSO ---> Valentino Rossi enters the Metaverse with VR46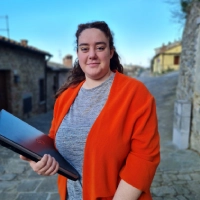 Viola Meacci, student of Biomedical Engineering at the University of Pisa, has always been interested in the world of journalism. In her job, she explored the world of blockchain, cryptocurrencies, NFT and metaverse which she now very is passionate about it .