SOULBOUND TOKENS - The metaverse and everything related to it takes many references from the world of video games. No exception are the Soulbound tokens - objects related to the soul.
Let's discover the Soulbound tokens
The Soulbound Tokes - known by the acronym SBTs - are particular NFT, inspired by particular objects within the famous World of Warcraft. Within the game users can get hold of particular elements, which once won after overcoming certain challenges, become the property of the player who is awarded them. The gamer can no longer exchange, sell or destroy them, but they will always remain his property. The name of these objects is soulbond.
The idea was born to avoid the exchange of recognition of achievements between players, in order to facilitate the advancement of level too fast. In fact, they uniquely attest that it was a player, rather than another to overcome a certain challenge, to pass a particular level or to win an upgrade or an object.
The same applies to SBTs, which, belonging to real life, can be curriculum vitae, certificates, notaries, degrees, works of art made by a person who has no intention of giving up with others. Their value is mainly emotional.
The differences between SBTs and NFT
Exchangeability
The concept of uniqueness is intrinsic to NFT, or unique goods uniquely traceable to an owner. The same principle applies to SBTs, but this is a further step forward.
NFTs can be traded, sold and then passed from one owner to another. Their story is traced and is accessible by reading the data saved within the blockchain. Soulbound data is generated and saved in the same way as the not fungible tokens, but does not have a history of the holders because only one exists. They are non-transferable and non-marketable tokens. This particular property also makes them devoid of commercial value, which is typical of NFT.
Wallet
Another difference concerns the wallets, NFT can in fact be stored in different types of wallet, for SBTs there is only one dedicated, precisely called Soul.
Privacy
The history of data related to cryptocurrencies and various tokens such as NFTs are saved within the blockchain that generated them, but they are not always readable by everyone, in fact very often the anonymity related to transactions is guaranteed.
For Soulbound tokens this cannot be possible because the property must be verified, so the owner's digital identity must always be visible. The data cannot be reached, then modified or altered, but must be visible and transparent for anyone who wants to consult them.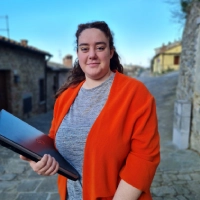 Viola Meacci, student of Biomedical Engineering at the University of Pisa, has always been interested in the world of journalism. In her job, she explored the world of blockchain, cryptocurrencies, NFT and metaverse which she now very is passionate about it .