By the end of May the Ultimate Sensory Adventure in the Julian Alps will take place in Bohin, Slovenia. The Slovenian Tourist Board presented this new exclusive collection of Non-Fungible-Tokens related to Tourism during the latest edition of the World Travel Market in London.
The reconnection with nature today can also pass through one of the latest and revolutionary digital solution. In addition to a digital souvenir, with the Slovenian Tourist NFTs, customers will buy a unique experience. The so called Ultimate Sensory Adventure in the Julian Alps that offers outdoor and gastronomy activities, in the extraordinary setting of the Julian Alps.
Aljoša Ota, innovative director and trainer of the Slovenian Tourist Board, who was able to seize the opportunity provided by digital tokens and cryptocurrencies for a digitization of the tourist offer, presented in Italy this new kind of tourism promotion.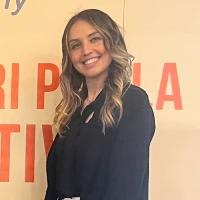 Ilaria Vanni is a TV journalist for italian broadcasting and coordinator of The Meta Economist portal. She has a philosphy degree and she's now studing the economic and technological issues connected to the new frontiers of the metaverse.