Ilaria Vanni's interview with the web 3 consultant and Dao builder Victor Lardé. Lardé is now based in Italy but he's from France and worked in Malta. His professional activity is focused in supporting many companies towords the digital and web 3 revolution. Lardé is also the founder of the Academy Web3, an online school where people learn how to manage with the new digital tools related to metaverse, cryprocurrencies and blockchain.
"In my opinion we are living a blockchain revolution - said Lardè. We are living a new step in humanity, which is technology, because a blockchain has the potential to change the world and to have a fully decentralized world and to stop with the control and the lack of freedom and the censorship that is now a centralized entity".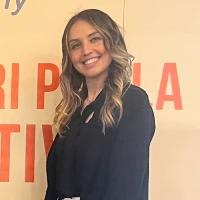 Ilaria Vanni is a TV journalist for italian broadcasting and coordinator of The Meta Economist portal. She has a philosphy degree and she's now studing the economic and technological issues connected to the new frontiers of the metaverse.