Vitalik Buterin- co-founder of Ethereum - on July 24th publicly expressed his opinion about Worldcoin's decentralized human identity verification system. Worldcoin consists of a privacy-preserving digital identity (World ID) and a digital currency (WLD) and was co-founded by Sam Altman, who is best known for being the CEO of OpenAI.
Vitalik Buterin expressed his opinion in a long article in which he wrote that Worldcoin's new verification system is a good anti-spam and anti-concentration of power. In his opionion it will become increasingly difficult to distinguish between humans and machine. So if I good system can check whether if you're a robot or human, is certainly a positive goal.
Ethereum co-founder is more concerned about privacy and iris scanning. Buterin fears that this could glean much more information than initially appears, such as a person's gender, ethnicity, and even specific medical conditions.
"If proof of personhood is not solved, decentralized governance becomes much easier to capture by very wealthy actors, including hostile governments." The Ethereum co-founder also highlights that systems like Worldcoin, if it continues to decentralize as promised, will avoid "dependence on centralized authorities and reveal the minimal information possible.
SOURCE: COINTELEGRAPH
READ ABOUT DESANTIS AGAINST CBDCS
Follow us on Instagram @TheMetaeconomist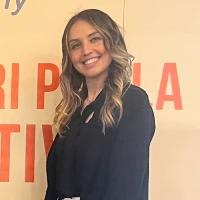 Ilaria Vanni is a TV journalist for italian broadcasting and coordinator of The Meta Economist portal. She has a philosphy degree and she's now studing the economic and technological issues connected to the new frontiers of the metaverse.