MARRAKESH - From today to 15th October in Marrakesh, Morocco, the meeting of Central Bank Governors will be crucial to create new fundamental statements for the crypto regulation. Finance ministers and central bank governors are all set to meet for the final time under India's G20 presidency on October 12 and 13 in Marrakesh, Morocco.
The roadmap for crypto regulations is expected to be one of the major key agendas during the meeting. India will seek to ensure that the issues that were part of the New Delhi Declaration are pushed thorugh, including a crypto regulatory framework - Cryptonews said.
Not later that one month ago at the Global Fintech Fest in Mumbai, Indian Finance Minister Nirmala Sitharaman said that cryptocurrencies could not be regulated efficiently without the co-operation of all countries. Nirmala Sitharaman added: "India's (G20) presidency has put on the table key issues related to regulating or understanding that there should be a framework for handling issues related to crypto assets".
India expectetions on crypto assets
"Volume 2 of the report of this Expert Group will be released post the fourth G20 finance ministers and central bank governors (FMCBG) meeting in Marrakech, Morocco, on 12-13 October 2023," the finance ministry said in a tweet.
The G20 declaration on crypto assets has sent a wave of optimism to local crypto platforms who have been waiting for clear crypto regulations for a long time.
Earlier, while delivering the keynote address at the Global FinTech Fest 2023, the Reserve Bank of India's Governor Shaktikanta Das also urged fintech firms to establish a self regulatory organization themselves.
SOURCE: REUTERS, CRYPTO NEWS
FOLLOW THEMETAECONOMIST ON INSTAGRAM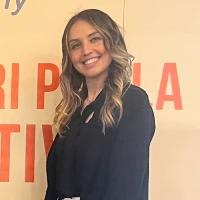 Ilaria Vanni is a TV journalist for italian broadcasting and coordinator of The Meta Economist portal. She has a philosphy degree and she's now studing the economic and technological issues connected to the new frontiers of the metaverse.