USA - There's a X for everything. In its own social media, Elon Musk wrote about the launch of Grok, the new AI system proposed on market by Tesla tycoon. Elon Musk's new AI company xAI launched this new chatbot to rival ChatGPT. Its launch led to hundreds of new AI-related tokens being created. Grok shows strengths in math and reasoning. Future capabilities will include audio and visual features.
Here's the X officially shared by the account xAI:
"Grok is an AI modeled after the Hitchhiker's Guide to the Galaxy, so intended to answer almost anything and, far harder, even suggest what questions to ask! Grok is designed to answer questions with a bit of wit and has a rebellious streak, so please don't use it if you hate humor! A unique and fundamental advantage of Grok is that it has real-time knowledge of the world via the 𝕏 platform. It will also answer spicy questions that are rejected by most other AI systems. Grok is still a very early beta product – the best we could do with 2 months of training – so expect it to improve rapidly with each passing week with your help."
Grok tokens
The launching of Grok was followed by the creation of nearly 400 "GROK" tokens. They emerged on crypto exchanges, with some surging over 1000% and reaching millions in market value and trading volumes shortly after launching. However, most GROK tokens were unofficial or scams, with developers suddenly removing liquidity and causing over $1 million in losses. Blockonomi wrote that: "Though influential in the crypto space, Musk stated none of his companies will create an official crypto token, so the GROK tokens are unrelated to xAI".
The goals
Musk has repeatedly expressed concern about the "civilization-destroying" potential of artificial intelligence. In a Twitter Spaces event last summer, Musk explained his plan to build a more secure Ai. Rather than explicitly programming morality into its AI, xAI will seek to create "maximally curious" AI, he said.
Grok is a chatbot from xAI, Elon Musk's new artificial intelligence startup. The AI system, currently in beta testing, aims to provide witty and candid answers to questions while also making intelligent suggestions.
The launch comes as Musk is seeking to boost engagement and sales at X, which since his 2022 purchase of Twitter has lost revenue after many advertisers pulled spending over concerns about his relaxing of content moderation.
SOURCES: Financial Times, Blockonomi
FOLLOW THE META ECONOMIST ON INSTAGRAM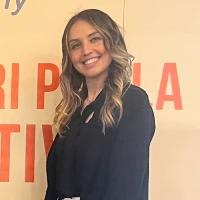 Ilaria Vanni is a TV journalist for italian broadcasting and coordinator of The Meta Economist portal. She has a philosphy degree and she's now studing the economic and technological issues connected to the new frontiers of the metaverse.