FLORENCE - What does the metaverse smell like? Metaverse and AI enter also the world of perfumes. The 21st edition of Pitti Fragranze, the Pitti Immagine salon dedicated to the world of international artistic perfumery, which took place at the Stazione Leopolda in Florence, has just ended. And beyond the new scents and events was also an opportunity to see the trend of a multi-faceted market. Numerous talks on new trends, the comparison between different generations had been the occasion to analyse the impact of Artificial Intelligence and the Metaverse into the world of perfume. The web 3 is someway ready to influence also the perfumes market?
How to use AI in the perfume sector
Artificial Intelligence at Pitti Fragranze was presented with Symbiotic Experience, a reinvented perception, an installation whose protagonists were 4 digital artists who work with AI to inspire the sillages composed for the occasion by 4 important noses: Alberto Morillas, Coralie Spicher, Serge Majoullier and Jérôme Di Marino. The result? A unique, immersive, synaesthetic experience, where physical and reinvented reality find a perfect point of union.
As in all thecnolgies, smell in the Metaverse may sound strange as smell is the only sense not perceived in the virtual world. But Pitti Fragranze tried to overcome this boundary with Agharti, the perfume of the Metaverse. The new Italian brand Agharti Scent Score has proposed four fragrances, all based on sustainable ingredients and enclosed in bottles inspired by the Metaverse. It's a sort of immersive experience in which the smell came form different elements of nature.
"The creative director, Barbara Loddo, owner of Aquacosmetics, imagined the stages of a journey towards the center of our planet in a magical world - reported Il Sole 24 Ore. Fragrances materialize from the four essential elements for life, starting with the green scent of the earth to arrive at the refreshing one of water, passing through the heat of fire and the lightness of air"
SOURCE: IL SOLE 24 ORE
FOLLOW THEMETAECONOMIST ON INSTAGRAM
READ ALSO ---> Microsoft flies towards a new era with Copilot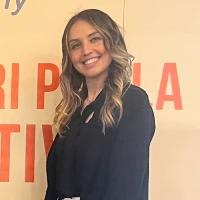 Ilaria Vanni is a TV journalist for italian broadcasting and coordinator of The Meta Economist portal. She has a philosphy degree and she's now studing the economic and technological issues connected to the new frontiers of the metaverse.