The metaverse offers many opportunities for teaching. Schools are exploring new ways of teaching, which leverage technology to create immersive and engaging experiences. With virtual learning environments, students can interact with their classmates and teachers, explore complex concepts visually and entertainingly, and access global educational resources.
The Metaverse offers new learning opportunities
The metaverse offers learning environments that mimic the real experience. For example, a student could visit an ancient Roman city or immerse themselves in a virtual science laboratory. This creates an engaging and meaningful learning experience, which could help students better remember what they have learned.
In addition, the metaverse offers the opportunity to create inclusive and accessible learning environments. Students with disabilities can use this type of technology to participate in classes and educational activities without the limitations they may encounter in real life.
There are also logistical advantages. For example, it might be cheaper for schools to create virtual learning environments than real ones. Not to mention the learning materials that can be shared easily and instantly with students around the world.
Communicating with the rest of the World
People from all over the world who can communicate with students. The Metaverse can break down geographical barriers and allow students to collaborate with different realities. This global collaboration can help students gain greater cultural awareness and develop teamwork skills.
The metaverse can facilitate communication with people who speak different languages, but learning a language other than your own always comes in handy in life. Experts say that 1 in 3 students who study foreign languages is afraid to speak a language other than their own. But, using virtual reality you can help these students feel more confident, eliminating fears and anxiety.
Overcoming the challenges of innovation: the obstacles to integrating virtual reality in teaching
However, there are also some challenges in using the metaverse for teaching. One of the main problems is that not all students have access to the necessary technology. Schools should ensure that all students have access to the devices and Internet connections needed to participate in classes in the metaverse.
In addition, teachers should be trained in the use of metaverse and the integration of virtual experience into their lessons. Added to this is the need to develop rules and regulations to ensure the safety and privacy of students.
The first applications of the Metaverse to the school
However, there are already experiences of the application of virtual environments in teaching. On 2 March 2023 in Sulmona, 400 students from Abruzzo schools participated in the Hi-Tech university orientation event promoted by the Bio-Medical Campus University of Rome: "UCBM Destination".
The students, thanks to the use of virtual reality, had the opportunity to participate in the open day of the University Campus Bio-Medico in Rome visiting all environments, without moving from Abruzzo.
From within their classrooms they were able to visit the departments of medicine, nursing, engineering, nutrition and nutrition, sustainability, artificial intelligence, big data as well as take a lesson in the university classroom, interact with faculty and participate in laboratory experiments.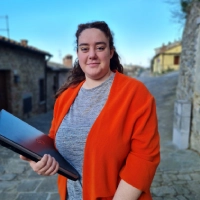 Viola Meacci, student of Biomedical Engineering at the University of Pisa, has always been interested in the world of journalism. In her job, she explored the world of blockchain, cryptocurrencies, NFT and metaverse which she now very is passionate about it .