NAPLES - There's a new way to eat fast food and its name is Welly. Welly is the first fast food lead by a DAO, the Decentralized autonomous organizations. The project was conceived "as a new restaurant model born in Naples that focuses on the sale of chicken and salads, with an exclusive collaboration with Shiba Inu, one of the most important cryptocurrency".
"We have built a community of 5 thousand members on Discord - explains Paolo Bellucci, member of the team - we can count on over 50 thousand followers on Twitter, and we have received more than 400 requests for franchising from different countries" .
Welly is based on a typical crypto system, called DAO, an organization that operates online thanks to the decisions of owners (investors) who have a direct influence on crucial aspects of the brand. Design, brand identity, logistical and strategic decisions are the crucial elements of this project: "We want to be the first fast food restaurant in the world driven so much by our Community" continues Bellucci.
Blockchain and food
Welly isn't just about food selling, it wants to bring transparency in the food and restaurant markeet by introducing a fully traceable supply chain on the blockchain. This model offers to the consumers information on the origin of the products. The menu will focus on chicken and there will be influences from Mediterranean cuisine, with healthy alternatives, such as roasted croquettes instead of the classic fried one". "We have planned a balanced and non-dispersive menu. A smaller menu to better respond to the demand for product traceability" underlines Bellucci.
The fast food idea was born following the launch of a successful NFT collection, which then allowed the team to be noticed by Shiba Inu managers, who then decided to support the project. Meanwhile, Welly will open the first Welly store in Naples, which will be followed by the first ghost kitchen dedicated to Welly salads, a product intended for supermarket shelves and beyond, and then the inauguration of the first franchise expected by the end of 2023."
SOURCE: ANSA
FOLLOW THEMETAECONOMIST ON INSTAGRAM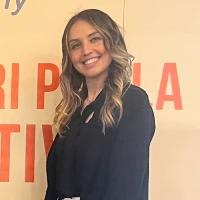 Ilaria Vanni is a TV journalist for italian broadcasting and coordinator of The Meta Economist portal. She has a philosphy degree and she's now studing the economic and technological issues connected to the new frontiers of the metaverse.